The 50-foot R/V Gulf Challenger is the flagship of the School of Marine Science and Ocean Engineering.
Learn More
Category:
Center for Ocean Renewable Energy, Vessels
R/V Gulf Surveyor is a state-of-the-art platform for hydrographic research, and the newest addition to the UNH SMSOE fleet.
Learn More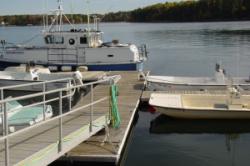 A majority of the UNH small boat fleet is located at the Jackson Estuarine Laboratory (JEL) and the Judd Gregg Marine Research Complex.
Learn More